The Aqua-Farms Organization works through a community-based approach that aims at enhancing the proper utilization of aquatic resources, food access, and income generation to the community through research, training, workshops, and collaboration in sustainable aquaculture and fisheries. Seaweed farming in Tanzania is unique in that over 80% of its farmers are women. Seaweed farming constitutes an important source of income and livelihood in the Zanzibar islands (Unguja and Pemba). The dominant technology to grow them is the traditional off-bottom method, using wooden stakes (pegs) planted in the sand and ropes to which seaweed bunches are attached. The traditional off-bottom method of seaweed farming using wooden stakes and ropes is a low-tech and affordable approach that can be accessible to small-scale farmers with limited resources, However, Farmers have faced many environmental, social, and economic challenges. These include climate change, weak representation of women producers, difficulties in accessing international markets, and insufficient protection of coastal ecosystems.
Aqua-Farms Organization is addressing these challenges faced by seaweed farmers in Tanzania through its community-based approach. Climate change is a significant threat to the sustainability of seaweed farming and fisheries in the region, and it is essential to develop adaptation strategies to mitigate its impact. The organization's focus on empowering women producers is particularly important, given the significant role that they play in the seaweed farming industry in Tanzania. Providing training and support to women farmers can help to enhance their productivity and income while also promoting gender equity and social inclusion. Access to international markets is crucial for the economic viability of seaweed farming in Tanzania. It is essential to develop value-added products and marketing strategies that can help to increase the value of seaweed products and attract international buyers. However, it is also important to ensure that seaweed farming is sustainable and does not have negative impacts on coastal ecosystems and other users of aquatic resources.
Aqua-Farms Organization has been working with 58 women seaweed farmers from Zanzibar and has been able to increase their income per kilo of seaweed from less than 0.25 USD to 4 USD through Sus Blue Shop, furthermore, assisting them to enhance their production through deep water tubular net seaweed farming and trained them on seaweed value addition. The weak representation of women producers is another important issue that has been addressed. Women often face barriers to accessing resources and markets, and they may have limited decision-making power within their households and communities.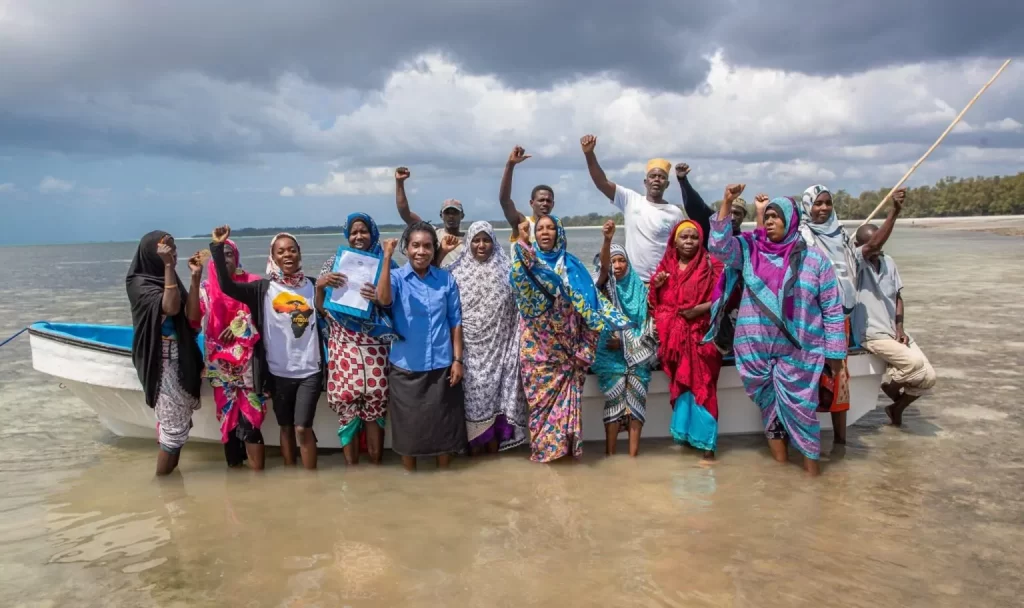 Sus blue shop (Sustainable blue Economy shop) Aims to build capacity for a group of women who depend on aquatic resources for their daily life, yet they face challenges. Aqua-Farms Organization through Sus Blue shop aims to increase the income of seaweed farmers by improving product quality and packaging, developing business skills, and building partnerships with buyers and distributors. However, it's important to ensure that market-based approaches do not compromise the environmental and social sustainability of seaweed farming and fisheries.
---
Author: Prisca Issangya